The history of this Famous NY Deli in South Florida
Back in the original five Burroughs in New York–yes, we are counting South Florida as the sixth–every neighborhood has its deli. One would never have to travel far to find an awesome pastrami on rye, homemade turkey, corned beef, or lox. But for most New Yorkers, things took a big change on the migration to Florida, and they missed the real deli experience of New York.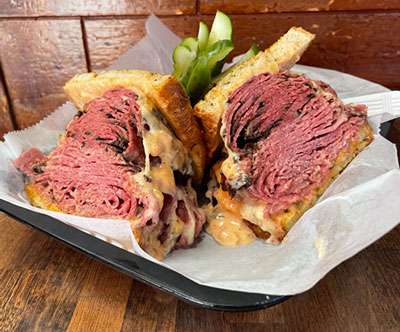 So, in 1969, Pomperdale Famous New York Deli opened its doors and has been serving our famous deli fare for over 50 Years. At Pomperdale, Rick Bruskin (The Deli Guy) & Brie Bruskin (The Deli Gal), make it their mission to give everyone the ultimate dining experience by serving up superior New York deli food. In 2022, joining forces with John Mautner, we have started franchising because, the world needs a great deli.
Our goal is to please every customer and we don't cut corners in the process. We take the painstaking time to make sure everything is "just what the customer ordered!" We do everything the old-fashioned way, including making our own matzo ball soup in-house and pickling and curing our own meats. We do it all.
Pomperdale selects only the best meats to serve to our customers. We are very meticulous about the ingredients we use, and everything from pastrami, corned beef, turkey, roast beef, soups, solid white loin tuna, chicken salad, side dishes and breads is made fresh daily. Now that's care.
The portions at Pomperdale are huge, in the New York Tradition! The signature, cut-to-order pastrami and corned beef sandwiches are unparalleled, and not one customer has ever left our deli hungry!
Our commitment to provide our customers with more than just food has and will be the reason Pomperdale continues to achieve Best Deli Awards in South Florida year after year.
"If I knew anyone went hungry after eating at my deli, it would break my heart." -Rick, Owner, Pomperdale Famous New York Deli (The Deli Guy).